Reading Colorado
A Literary Road Guide
by Peter Anderson
$22.00
SKU:

9781917895194
Take a drive into the literary landscapes of Colorado. Meet Kent Haruf's bachelor farmers in the Eastern Plains, ford the South Platte with Mark Twain, rail against nuclear weapons with Anne Waldman and Allen Ginsberg, hitch a ride to Denver with Jack Kerouac, climb the highest peaks with Isabella Bird and Enos Mills, explore the cliff dwellings of Mesa Verde with Willa Cather. 
Reading Colorado, a high-octane road trip through the diverse literary landscapes of the Centennial State, gathers narratives of exploration, stories from the mining and agricultural frontiers, urban tales reflecting the emergence and growth of Denver and the Front Range, and a diverse range of contemporary voices, from the Plains to the Peaks, who invite readers into their home territory. 
The travel guide format is perfect for exploring Colorado in a hammock strung between some aspens, on the couch with your feet kicked up by the fire, or by hitting the road with your favorite traveling companion. This guide includes many writers not yet anthologized as well as others who have become household names and its place-based focus makes it easy to zoom in on literature that features your favorite locations. It will deepen the map, enhancing road trips for residents, visitors, and armchair travelers alike. 
TABLE OF CONTENTS
FOREWORD Tom "Dr. Colorado" Noel 
A FEW GEOGRAPHICAL AND LITERARY NOTES 
THE EASTERN PLAINS 
Highway 160 · Colorado-Kansas line west to Trinidad 
1. Walsh: from An Owl on Every Post by Sanora Babb
2. Springfield: from The Worst Hard Time by Timothy Egan
3. Kim: "Cowboy Days," "Ridin' Fence," and "Drinkin' Water" by Bruce Kiskaddon
Highway 50 · Colorado-Kansas line west to Pueblo 
4. Granada: from Gasa Gasa Girl Goes to Camp by Lily Yuriko Nakai Harvey
5. Lamar, ten miles west of Lamar on Highway 50 and north on 287: "The Confession of William Dargy" by Priscilla Waggoner
6. Bent's Fort, thirteen miles west of Las Animas, six miles east of La Junta, north of US 50: from Bent's Fort and Its Builders by George Bird Grinnell
7. Rocky Ford: from Sometimes a Great Notion by Ken Kesey
Highway 40 · Kansas-Colorado line to Limon
8. Cheyenne Wells: from Butcher's Crossing by John Williams
9. Sand Creek Massacre National Historic Site, Highway 287 south from Highway 40: Letters from Captain Silas Soule and Lieutenant Joseph Kramer
Interstate 70 · Colorado-Kansas line to Denver 
10. Burlington: from "Flight Pattern" by Joanne Greenberg
11. Flagler: from Country Editor's Boy by Hal Borland
12. Limon: from Limon, Colorado by Lyle Miller
Highway 24 · Limon to Colorado Springs 
13. Simla: from Tenderfoot Bride by Clarice E. Richards
Highway 36 · Colorado-Kansas line to Byers / Interstate 70 
14. Idalia: from The Diary of Mattie Spencer by Sandra Dallas
15. Joes: from East of Denver by Gregory Hill
16. Lindon/Last Chance: "Last Chance, Colorado Tornado" by William T. Reid
Highway 34 · Colorado-Kansas line to US 76 in Brush 
17. Wray: from "Colorado Romance" by Sureva Towler
18. Yuma: from Plainsong by Kent Haruf
Highway 76 · from Julesburg to Denver 
19. Julesburg: from Roughing It by Mark Twain
20. Proctor: from Roughing It by Mark Twain and Colorado Without Mountains by Harold Hamil
21. Brush/Fort Morgan: from Stygo by Laura Hendrie
THE CORRIDOR 
Interstate 25 · New Mexico to Denver 
22. Trinidad: from Autobiography of Mother Jones by Mary G. Harris "Mother" Jones
23. El Moro, just north of Trinidad: from Essays of an American Peasant by Tomas Mariano
24. El Moro, just north of Trinidad: from Drop City by John Curl
25. Near El Moro: from "Road to the Purgatoire" by Doug Holdread
26. Ludlow: from Ludlow by David Mason
27. Walsenburg: from King Coal by Upton Sinclair
28. Pueblo: from The World of Damon Runyon by Tom Clark and A Gentleman of Broadway by Edwin P. Hoyt
29. Colorado Springs: from Westward to a High Mountain by Helen Hunt Jackson
30. Colorado Springs: from Of Time and Change by Frank Waters
31. Colorado Springs: from Everybody Welcome by Fannie Mae Duncan with Kathleen F. Esmiol
32. Denver: from the poetry of Corky Gonzales and Lalo Delgado
33. Denver: from The First Third by Neil Cassady
34. Denver: from On the Road by Jack Kerouac and The Ringer by Jenny Shank
35. Denver: from "Here is a Land Where Life is Written in Water" by Thomas Hornsby Ferrill
36. Denver: from The Thunder Tree by Robert Michael Pyle
Highway 93 · Golden to Boulder 
37. Golden: from Red Fenwick's West by Robert W. "Red" Fenwick 117
38. Rocky Flats: from "Rocky Flats: Warring God Charnel Ground" by Anne Waldman
39. Eldorado Canyon: from Everything that Matters by Pat Ament
40. Boulder: from Dreams from Bunker Hill by John Fante
41. Boulder / Boulder Creek Canyon: from Wandering Time by Luis Alberto Urrea
42. Boulder / Foothills: from The Four-Cornered Falcon by Reg Saner
Interstate 25 · Longmont to Wellington 
43. Longmont: from On the Road by Jack Kerouac
44. Greeley: from An Overland Journey by Horace Greeley
45. Greeley: James Michener on writing Centennial 
46. Keota: James Michener on Keota
47. Wellington: from "Wellington's Trial by Blizzard" by Bill Hosokawa
THE FIRST WAVE 
Highway 160 · Walsenberg / La Veta 
48. Walsenberg / La Veta: from Spanish Peaks by Conger Beasley Jr.
Highway 69 · Walsenberg to Westcliffe 
49. Gardner: from Huerfano by Roberta Price
50. Westcliffe: from Westcliffe, Colorado by W.O. Mieir
51. Wet Mountains: from "Snake in the Grass" by Hal Walter
Highway 24 · West from Colorado Springs 
52. Manitou Springs / Pike Peak: from Early Ascents of Pikes Peak by Woody Smith
53. Woodland Park: from Beyond the Aspen Grove by Ann Zwinger
54. Divide / Cripple Creek – Victor: from Good Evening Everybody by Lowell Thomas
55. Florissant: from Saved In Time by Estella B. Leopold and Herbert W. Meyer
Interstate 70 · Denver Foothills to Loveland Pass 
56. Idledale: from Dwellings by Linda Hogan
57. Georgetown: from My Rocky Mountain Valley by James Grafton Rogers
58. Graymont/Bakerville: from Halfway to Heaven by Mark Obmascik
59. Loveland Pass: from Long Haul by Finn Murphy
Highway 34 · Loveland to Rocky Mountain National Park 
60. Lyons: from Dumb Luck and the Kindness of Strangers by John Gierach
61. Estes Park: Stephen King and the Stanley Hotel
62. Rocky Mountain National Park, Many Parks Curve: from A Lady's Life in the Rocky Mountains by Isabella Bird
63. Rocky Mountain National Park, near Alpine Visitor Center: from Even Mountains Vanish by SueEllen Campbell
64. Rocky Mountain National Park, Colorado River Trailhead: from The Spell of the Rockies by Enos Mills
Highway 14 · Fort Collins through Poudre Canyon 
65. Laporte: from "Door to the Beyond" by Laura Pritchett
66. Bellvue: from "Sailing Through the Night" by John Calderazzo
67. Colorado-Wyoming border, north on Highway 287: from The Meadow by James Galvin
68. Poudre Canyon, west on Highway 14: from Hunting for Hope by Scott Russell Sanders
THE HIGH PARKS AND VALLEYS 
SAN LUIS VALLEY 
Highway 159 · New Mexico to Highway 160 
69. San Luis: from "Little Bethlehem" by Fred Baca
Highway 160 · La Veta Pass to Wolf Creek Pass 
70. La Veta Pass to Fort Garland: from Tramp Across the Continent by Charles Fletcher Lummis
71. Alamosa: from "Esperanza" by Kathy Park
72. Del Norte: "Fremont's Fourth Expedition" by Micah McGehee
73. Wolf Creek Pass: from Instant Karma by Wayne Sheldrake
Highway 17 · Alamosa to Highway 285 
74. Mosca: from "Hurriedly" by Trudi Kretsinger
75. Crestone: from Heading Home: Field Notes by Peter Anderson
76. Moffat: from "Antelope and Jackrabbit" by Peggy Godfrey
77. Between Moffat and Highway 285: from Life with Pickle by John Mattingly
Highway 285 · Cumbres Pass to Poncha Pass 
78. Cumbres Pass: from "Meditación en Dos Ojos" by Reyes Garcia
79. Antonito: from Letters from the Headwaters by Aaron Abeyta
80. Romeo/Manassa: from Alex and the Hobo by Jose Inéz Taylor and James M. Taggart
81. Saguache: from The Last Ranch by Sam Bingham
82. Villa Grove: from The Life of an Ordinary Woman by Anne Ellis
Highway 149 · South Fork to Slumgullion Pass 
83. Creede: from "Creede" by Cy Warman an early Creede dispatch to the New York Times 
84. Upper Rio Grande: from Deep Creek by Pam Houston
UPPER ARKANSAS RIVER VALLEY 
Highway 50 · Royal Gorge to Monarch Pass 
85. Royal Gorge / Parkdale: from "River Driver" by Hank Myers
86. Cotopaxi: from Nothing Here But Stones by Nancy Oswald
87. Cottonwood Rapids, Three Miles west of Cotopaxi: from "The Bull of Whitewater Rapids" by S.C. Dubick
88. Salida: from Deep in the Heart of the Rockies by Ed Quillen
89. Salida / Hutchison Ranch: from Under the Angel of Shavano by George G. Everett and Wendell F. Hutchinson
90. Monarch Pass: from "Ghost Highway of the Rockies" by F. E. Gimlett
Highway 285 · Poncha Springs to Johnson Village 
91. Nathrop: from "Mountain Mamas Tales" by Kizzen Laki
Highway 24 · Buena Vista to Minturn 257
92. Buena Vista: from Rocky Mountain Letters by William H. Brewer
93. Leadville: from Olden Times in Colorado by Carlyle Channing Davis
94. Leadville: from A Victorian Gentlewoman in the Far West by Mary Hallock Foote
95. Leadville / Climax: from The Making of a Hardrock Miner by Stephen M. Voynick
96. Camp Hale, between Leadville and Minturn: from Climb to Conquer by Peter Shelton
SOUTH PARK
Highway 9 · Parkdale to Hartsel 
97. Guffey: from Between Urban and Wild by Andrea Jones
98. Hartsel: from "The Incompleat Angler" by John J. Lipsey
Highway 285 · Trout Creek Pass to Kenosha Pass 
99. Between Antero Junction and Fairplay: from Spring's Edge by Laurie Wagner Buyer
100. Fairplay: from Angle of Repose by Wallace Stegner
101. Kenosha Pass / Platte Canyon: "Spirit that Form'd This Scene" by Walt Whitman
NORTH PARK
Highway 14 · Gould to Walden 
102. Gould: from Timber Times and Tales by Earlene Belew Bradley
103. Walden: from The View from the Folding Chairs by Michala Miller
WESTERN SLOPE 
WESTERN SLOPE SOUTH: SAN JUAN RIVER BASIN
Highway 160 · Pagosa Springs to Bayfield 
104. Pagosa Springs: from Ghost Grizzlies by David Petersen
105. Chimney Rock: from House of Rain by Craig Childs
106. Bayfield: from When the Legends Die by Hal Borland
Highway 550 · Durango to Silverton 
107. Durango: from A Land Alone by Duane Vandenbusche and Duane Smith
108. Silverton: from "Across the Great Divide" by Steven J. Meyers
Highway 160 · Durango to Towoac 
109. Hesperus: from The Education of a Wandering Man by Louis L'Amour
110. Mancos Hill: from "The Hush" by Grace Katherine Anderson
111. Mancos / Mesa Verde: from The Professor's House by Willa Cather
112. Cortez: from The Sorrow of Archaeology by Russell Martin
113. Dolores: from "The Trailers of Montezuma County" by David Feela
114. Dove Creek: from Unforgettable Characters of Western Colorado by Al Look
115. Towaoc: from "Whispers from the Past" by Regina Lopez-Whiteskunk
116. Towaoc: from West of the Divide by Jim Carrier
WESTERN SLOPE CENTRAL: COLORADO AND GUNNISON RIVERS 
Highway 145 / 90 · Lizard Head Pass to Paradox 
117. Ophir: from Fool's Gold by Rob Shultheis
118. Telluride: from Tomboy Bride by Harriett Fish Backus
119. Norwood: from "Almost Animal" by Amy Irvine
120. Nucla: from "Dr. Don" by Peter Hessler
121. Paradox: from One Man's West by David Lavender
Highway 550 · Red Mountain Pass to Ridgway 
122. Red Mountain Pass: "Red Mountain" by Robinson Jeffers
123. Ouray: from "Toward the Sun" by Kent Nelson
124. Ridgway: from Old Fences and New Neighbors by Peter Decker
Highway 50 · Gunnison to Delta
125. Gunnison: from "Hiking with Hobbes" by George Sibley
126. Black Canyon National Park: from City of Illusions by Ursula LeGuin
127. Montrose / Uncompahgre Plateau: from "Our New Life in the Forest" by Mary Anne Rawlings Ott
128. Delta: from Chronicles of the Forbidden by John Nizalowski
129. Cedaredge: from Island in the Sky by Muriel Marshall
130. Paonia: "A Newcomer's Old Story" by Paul Larmer
Interstate 70 West · Frisco to Glenwood Springs 
131. Frisco/Breckenridge: from "Goldboat" by Belle Turnbull
132. Vail: from Triumph of a Dream by Peter W. Seibert
133. Vail: from In the Shining Mountains by David Thomson
134. Glenwood Springs: from Fire on the Mountain by John N. Maclean
Highway 82 · Glenwood Springs to Aspen 
135. Woody Creek: from "Tentative Platform, Thompson for Sheriff" by Hunter S. Thompson
136. Aspen: from Notes of a Half-Aspenite by Bruce Berger
Interstate 70 · Parachute to Fruita 
137. Parachute: from Where the Water Goes by David Owen
138. Grand Junction: from Eclipse by Dalton Trumbo
139. Fruita: from a letter by John Otto
Highway 40 · Empire to Kremmling 
140. Empire / Berthoud Pass: Notes on Charlie Utter
141. Granby / Hot Sulphur Springs: from Colorado by Bayard Taylor
142. Kremmling: from "Mountain Medicine Man" by Evan Edwards
WESTERN SLOPE NORTH: YAMPA, WHITE, AND GREEN RIVERS
Flat Tops Scenic Byway / Highway 64 · Yampa to Rangely 
143. Yampa / Flat Tops Wilderness: from Tales of Lonely Trails by Zane Gray
144. Meeker: from A Wet Ass and a Hungry Gut by Danny W. Campbell
145. Between Meeker and Rangely: from "Dinosaur" by Steve Rasnic Tem
146. Rangely: from "A Water Tank Turned Music Venue" by Alex Ross
Highway 40 · Steamboat Springs to Dinosaur National Monument 
147. Steamboat Springs: from Headfirst in the Pickle Barrel and I Never Look Back by John Rolfe Burroughs
148. Hayden: from "The Betrayal of Jack" by Charles Wilkinson
149. Craig: from A Seasoned Life in Small Towns by Janet B. Sheridan
150. Browns Park: from Riding the Edge of an Era by Diana Allen Kouris
151. Cross Mountain Canyon: from Colorado's Yampa River by Patrick Tierney and John Fielder
152. Dinosaur National Monument: from "The Marks of Human Passage" by Wallace Stegner
ACKNOWLEDGMENTS 
BIBLIOGRAPHY 
CREDITS 
Category: Western U.S.
Product ID:

3792
Additional information
| | |
| --- | --- |
| Author | |
| Format | Paperback |
| ISBN | 9781917895164 |
| Pages | 456 |
| Publication Date | 11/01/2022 |
| Size | 6 x 9 |
| Subtitle | A Literary Road Guide |
The Author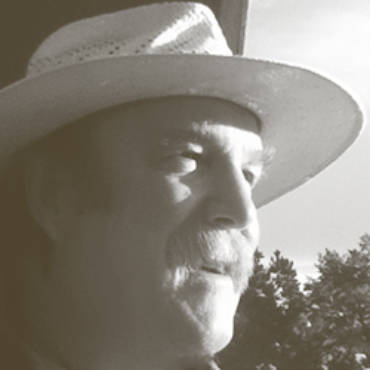 Peter Anderson's most recent book is Reading Colorado: A Literary Road Guide. Other books include Heading Home: Field Notes, a collection of flash prose and prose poems exploring rural life and the modern day eccentricities of the American West and First Church of the Higher Elevations, a collection of essays on wildness, mountains, and the life of the spirit. He lives with his family on the western slope of the Sangre de Cristo Mountains in southern Colorado where he launched the Crestone Poetry Festival, an annual gathering of southwestern poets.