Eugene Buchanan
A former reporter for the Denver Business Journal and 14-year editor-in-chief of Paddler magazine, Eugene Buchanan has written about the outdoors for more than 25 years, from covering the X Games for ESPN.com to working for NBC at the Beijing Olympics. A Business/Economics graduate of Colorado College, where he captained his NCAA lacrosse team, the former ski patrol, kayak instructor and sea kayak and raft guide also enjoys a successful freelance career, with articles published in the New York Times, Men's Journal, Sports Afield, Outside, National Geographic Adventure, Adventure Journal, Skiing, Ski, Powder, Backcountry, 5280, Bike, Mountain Bike and other publications.
A member of New York's prestigious Explorer's Club, he is also the founder of Paddling Life (www.paddlinglife.net), and a Contributing Editor for Powder and Canoe & Kayak magazines.
An avid adventurer with several first descents to his credit, Buchanan's passion for traveling, writing and paddling has taken him to more than 30 countries on six of the seven continents, from Australia and Africa to South America and Siberia. A contributor to Men's Journal's The Great Lifeanthology, his first stand-alone book, Brothers on the Bashkaus, was released by Fulcrum Publishing in 2008. His second book, Outdoor Parents, Outdoor Kids, a winner of the Living Now Book Awards, was released by Heliconia Press in 2010, and his third book, Comrades on the Colca, will be published by Conumdrum Press in spring 2016. He lives with his wife, Denise, and two daughters, Brooke, 16, and Casey, 13, in Steamboat Springs, Colo., just a block away from the Yampa River.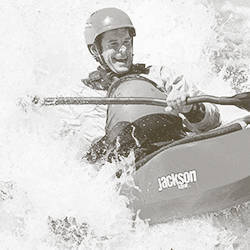 Books by Eugene Buchanan